VoiceRx™ - Electronic Will-Call/Kiosk
<![if !vml]>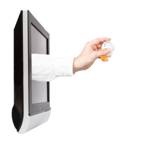 <![endif]><![if !vml]>

<![endif]>
Keep patients Inform while Advertising a New Revenue Stream!

The Abacus Will-Call Kiosk displays prescriptions ready for pickup. It also displays advertisements whether they are pictures, videos, web pages etc. The advanced advertising system can be easily managed on-site or remotely. Each display screen can have it's own unique ads running while always displaying the same "Rx Ready" list. This allows customers to run different ads by department. The space or "air time" may also be used to promote store specials or be sold or leased to vendors for promoting new products using existing advertising from TV, web, movie formats, or just images. Generating a new revenue stream will quickly allow the system to pay for itself. Multiple screens can be strategically placed throughout your store, so that when customers look for their name on the display screen, they are "drawn" to also look at the advertisements.
Patients will know when their prescription is ready by simply looking at the monitor. Patients appreciate not having to stand in line wondering if their prescription is ready; and pharmacist enjoy having fewer unnecessary disruptions. The Abacus Will-Call Kiosk module is HIPAA compliant and will display information in a variety of effective ways which allows only your patients to identify themselves on the monitor.
"Patients now have a reason to look at the advertisements. They are more likely to be read, making our advertising efforts more effective."
In addition it can send a text or pre-recorded voice message to your patient's cell, work or home phone when the prescription is scanned into Will-Call. Automatically sends pickup reminder message when Rx become aged.

Following are a few of the main features:
R Displays a Rx ready list.
R Displays Advertisement on same screen.
R Can be managed on-site or remotely.
R Seam less integration with Pharmacy software.
R Multiple displays with same or different ads.
R Calls patients when Rx is ready.
R Decrease "return to stock" due to abandoned Rx.
R Generates new revenues, pays for it self.