ShippingRx™ - multiple carrier shipping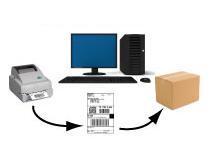 We can interface with many shipping systems offering the ability to rate, route, print labels, track, email notifications, signature confirmation, delivery confirmation, generate reports and provide various standard and customizable functions for a variety of national and regional carriers including:
US Postal Service Options
Internet Postage Automates the processing of USPS parcels by printing address labels complete with live postage and delivery confirmation (if applicable) from an online account.

Postal Manifesting Streamlines the processing of USPS mail or parcels by allowing mailers to combine mail pieces of identical or different weights and rates into a single mailing and perform sophisticated pre-sort routines.

Confirmation Services Enables shippers to track the delivery of USPS parcels processed.

Postage Meter Interface Provides a real-time link between your System and a Data-Pac compatible Hasler or Pitney Bowes electronic postage meter for fast, accurate and integrated USPS processing and postal accounting functions.
FedEx
Enables automated domestic & international shipping of FedEx Express, Ground, Home Delivery, and FedEx Freight shipments.
FedEx SmartPost
Enables automated FedEx Smart Post shipping.
UPS
Enables automated domestic & international UPS shipping.
UPS Mail Innovations
Enables automated UPS Mail Innovations (UMI) shipping.
UPS SurePost
Enables automated UPS SurePost shipping from.
Golden State Overnight
Enables automated Golden State Overnight shipping.
Landmark Global
Enables automated Landmark Global shipping.
LaserShip
Enables automated LaserShip shipping.
Lone Star Overnight
Enables automated Lone Star Overnight shipping.
LTL Shipment Processing
LTL Rating Turns into a completely integrated shipping solution that automates both small parcel and LTL shipment processing.

Bill of Lading Printing Further automates LTL shipment processing by generating VICS standardized Bills of Lading.
OnTrac
Enables automated OnTrac shipping.
Spee-Dee Delivery
Enables automated parcel shipping of this regional carrier called Spee-Dee Delivery.
DHL International
Enables automated DHL International shipping.
Enables automated DHL GlobalMail shipping.
Eastern Connection
Enables automated domestic & international shipping of domestic Eastern Connection shipping.